Sam Dixey
Sam Dixey is the Demand Planner for UK and Ireland with Organon, the newly created women's health and established brands company spun off from MSD.
He has responsibility for the management of the supply chain of Organon products into the UK & Ireland markets, which involves demand planning and wholesaler relationship activities.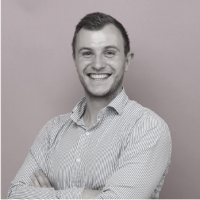 How did you enter the pharmaceutical industry?
I was studying for a Biological Sciences degree at Leeds University and took my third-year industrial placement with Pfizer in regulatory affairs.
This gave me a thorough grounding in all aspects for regulatory affairs, including the handling of product safety and quality queries received from health authorities throughout Europe.
During my placement, I wrote a briefing document to shape the development plan of a major new pipeline product in Phase II trials, and I worked with various teams across Pfizer to ensure the timely submission of two product license renewals.
I went back to university with a completely new outlook on life, and knew that I wanted to work in the pharmaceutical industry. I had been considering a career in pharma since I was at school, as my main interests were science and business and I had some insight into the industry through my father who has worked with a number of pharma companies.
After graduating I applied for a number of jobs and was accepted onto the MSD graduate training scheme.
Over the two year scheme, I completed a number of placements in digital marketing, brand management, business insights and supply chain management.
It's been a fantastic learning experience and it has helped me choose to go down the supply management route. Brexit and the response to the COVID pandemic have certainly been challenging! !
I've now moved over to Organon and it's a great opportunity to be part of a brand new company with a name that has so much heritage. I'm looking forward to going into the new offices when lockdown is eased.
Why is this business sector good for young people to get into?
The pharma industry is so wide, covering everything from paracetamol to complex cancer drugs.
You don't just have to be a scientist, you don't just have to be a business person, you can be either or both!
You can have exposure to all aspects of the business from research and development to sales, marketing, regulation and supply chain management!
There is so much opportunity to prove yourself in so many different disciplines.
How could things be improved for young people entering pharma?
More information about the size of the industry and the various opportunities beyond R&D and sales and marketing.
Best things about pharma
Doing something that has a direct positive impact upon the health of people.
Worst things about the sector?
The workload! But on the flipside that reflects the trust and responsibility that I have been given.
What would your advice be to your colleagues just embarking on their career within the pharma industry?
Before you come into the industry, find out as much as possible on what to expect.
Embrace everything that is offered to you and learn as much as you can and make the most of every opportunity.
As a 24 year old I am learning something new every day. As a 50 year old I still expect to be learning something new every day!
There is a saying that resonates with me: "Learning is experience multiplied by reflection