The PM Society supports LoveUKeira
LoveUKeira was created in January 2014 following the tragic death of Kirsty and Tim Lee's daughter Keira (2), following surgery to partially remove a brain tumour. We support the fantastic national brain tumour awareness campaign, HeadSmart and through The Brain Tumour Charity – LoveUKeira Fund, raise vital funds for research into childhood brain tumours.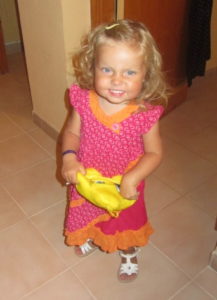 After several months of doctors and consultant appointments for recurring vomiting, Keira started to lose weight and became extremely lethargic. On the 27th of November 2013 we noticed a droop to one side of her face, she was barely using her right arm and one pupil was larger than the other – we immediately took Keira to A&E where she was diagnosed with a brain tumour.
Keira was rushed to a leading centre for Neurology in London for immediate surgery to alleviate the pressure in her skull caused by the 5x5cm tumour. One week later Keira had a major operation to try to remove as much of the tumour as possible. Unfortunately, she never recovered from the invasive surgery and our darling daughter passed away on the 5th of December 2013.
In the U.K. alone, 10 children or young people are diagnosed with a brain tumour every week, 25% will not survive. Many others are left with serious disabilities.
Despite cancer of the brain killing more children, young people and adults up to the age of 40 than ANY other form of cancer, less than 2% of funding into cancer research is specific to brain tumours.
Please help us in our cause to raise funds for research and awareness to reduce diagnosis times.
Thank you
Kirsty and Tim xx
Find out more: www.loveukeira.co.uk | facebook.com/loveukeira | www.thebraintumourcharity.org | HeadSmart