This article is the third in a series produced by the Pharmaceutical Marketing Society's Digital Interest Group to address some of the industry's most pressing challenges in the digital space. They have been designed and written to inform and share good practice, but most importantly to generate discussion and collaboration.
If you missed the first article relating to Unlocking Consent, you can access it here. The second article article on what the Pharmaceutical Representative of the future looks like here.
If you find value in the article then please like, share and join in the conversation. If you or your organisation are not already members of the PM Society then you can see the value of becoming a member here.
Introduction
Medical Education has traditionally been the start of the conversation with Healthcare Professionals (HCPs), enabling the sales force to continue that conversation into decision-making. Recently the world has seen fundamental shifts in how we receive information. More than ever Pharma is recognising that HCPs are people too, with preferences and habits much like any individual.
This article explores what this means for medical education. What is the future (and the very real present) that we should be recognising to better support the education of HCPs?
What's changed? 
We could easily argue, absolutely nothing has changed. HCPs still value the main principles which underpin medical education. Peer to peer sharing of experiences and knowledge, clear concise data, content backed up by a variety of written resources. There will always be a need for Continuing Professional Development (CPD) accreditation to validate their learning and satisfy their professional learning obligations. Beyond pure education, the demand remains high for the tools to enable changes in the practice and the provision of healthcare. From a holistic standpoint the aim of Medical Education remains to optimise patient outcomes.
What has changed is not necessarily the 'what', but the how…
For two years, there were no big congresses or face-to-face meetings to deliver data via the trusted, traditional channels. This knocked the wind out of the sails of Medical Education as we knew it. Suddenly we found ourselves teaching doctors the merits of Teams and Zoom, and intensively training them to present via webinars. We endured many stunted silences as the realities of presenting to audiences virtually left teams feeling nervous about whether audiences were engaged. Would there be enough on-demand viewers later to justify the investment? For a time, there was a feeling that this was a 'temporary phase' but will we ever get back to the levels of face-to-face interaction we saw in 2019? For context, IQVIA quotes (IQVIA, 2020) that at the end of 2019, meeting contacts were at an average of 485,915 per month in comparison to 76,308 in September 2020, a 84.3% decrease.
We are now in a new phase of understanding. Whilst HCPs may well relish a week where their interactions are more face-to-face than virtual, the merits of virtual channels cannot be ignored. We must now ensure we maximise opportunities by leveraging a hybrid approach to education.
The way HCPs are engaging with educational content has shifted. We have noticed an increase in the amount of quality online Medical Education content being developed for quick consumption. This can only be a good thing. If high quality educational content is produced, HCPs are informed, and forward thinking is promoted.
In the race to capture HCPs attention and seek return on investment, are we seeing the lines blur between promotional content and Medical Education more than ever before?
Extending the conversation?
Traditionally it was the role of Medical Education to start the conversation, with the sales force continuing that conversation and facilitating a positive change in behaviour. Sales forces have undoubtedly shrunk thanks to shifting priorities in 2020, with IQVIA quoting a 28.6 – 47.8% decrease in full-time sales-force employees for the largest 10 global pharmaceutical companies (IQVIA, 2021). Those who are available have reduced access to their customers due to the COVID back-log and an ever stretched NHS. Many HCPs are far more siloed in their engagement activities now, through choice and time pressures.
Are we now seeing that, increasingly, Medical Education has a role to play in extending that conversation beyond pure information, through to facilitating change? Is this right, and does it set the path for success?
More questions we could ask ourselves include
Is there a need to extend the conversation?
At what point does education hand over to promotion? – how is that facilitated through the content and the channel?
What are the KPIs for the educational content element of the journey?
How do your respective therapy area HCPs want to access Medical Education?
In the quest to seek commercial value against the mounting costs of generating this content, are we seeing more marketers' focus turn to using this educational content as a hook for consent capture to engage further with HCPs? Internally is this at odds with what medical teams are trying to achieve?
Allowing HCPs to proactively transition between the foundation of education and more detailed promotional messaging and product information puts them in the driving seat. It ensures they receive all the relevant information they need; however, we need to be careful not to make them jump through too many hoops in the process of accessing the quality content they seek.
It is important to weigh up the merits of delivering the educational messages to a wide audience vs. pushing for engagement in a more limited way. Regardless of the strategy, 'no strings, quality medical education' remains critical for generating trust.
When it comes to the future of medical education, we already see that medical and marketing teams' priorities are shifting. A recent survey by Reuters Events included representatives from marketing and digital, medical affairs, product/brand marketing and commercial strategy. The survey reviewed where Medical Education budgets are likely to increase and decrease over the next 3-4 years.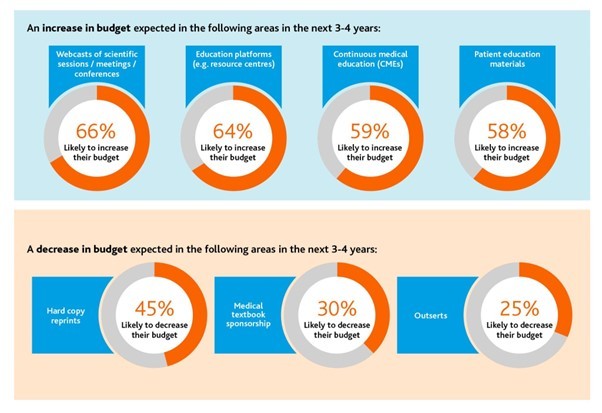 Figure 1: How Pharmaceutical budgets are predicted to change over the next 3-4 years. (The new era of HCP engagement, 2022, Reuters Events)
If we are truly and consciously using Medical Education to extend conversations and influence behaviours more than ever before, we first need to understand and adopt deeper principles of Learning Science. Enlightening discussions with an experienced thought leader in this area, Lawrence Sherman President, Meducate Global, LLC (linkedin.com/in/lawrencesherman/), has shared that Medical Education should be going much further than simply delivering educational content to truly educate clinicians. Sherman's experience in Learning Science has identified that we need to understand how clinicians learn, and guide them through what they need to know, so they are ready to receive the educational message before educators deliver it. The future of HCPs education needs to be focussed on individualising education, team based interprofessional education and outcomes and delivering education in just-in-time formats. This way the true value of Medical Education can be realised.
Moore's 7 levels of assessing the impact of continuing Medical Education could be considered in greater depth in the planning phases. This will allow for a more focussed measure of success with educational programmes. Teams leading on these projects are likely to consider that their activities are striving towards level 7 'community health' when in reality the impact of these is mainly being measured by level 1 'participation'.
If the pharma industry were to widely adopt this principle throughout their Medical Education tactics, it would reshape the traditional steering committee for educational programmes. Is the infrastructure and resource in place amongst Medical Affairs and Marketeers to truly shape the future of pharma companies' stake in clinician learning in this way?
Opportunities for the now
Hybrid events
By offering attendees a choice on how to participate, we ensure the commercial benefits of networking are still realised through smaller face-to-face audiences whilst allowing our Medical Education events to reach wider audiences. Streaming live events to online audiences ensures geography isn't a limiting factor in sharing expert opinion. It is now logistically easier and cheaper to get anyone from anywhere to contribute to your educational programme. Sharing best practice across regions, countries and continents in a live online environment has huge potential value in the education space. We now have the opportunity to create real value events that span continents through hub and spoke models. Simple inexpensive plugins can enable real time stats on customer opinion and experiences, broken down by country or specific group. The challenge with hybrid events is ensuring your online audience feels it is engaging, with recent stats highlighting that 81% of event organisers say that networking capabilities are a key contributor to audience satisfaction of hybrid events. (Markletic, May 2022). Careful consideration of the agenda is required and should be reviewed from all participant perspectives.
Continuing Professional Development 
Before and during the early days of the pandemic, CPD content hosted online was typically lengthy webinars and eLearning modules. Now we can be much more agile in the speed of delivery, creating short interactive pieces, videos, and case studies with clear educational messages. Adding the credibility of accreditation to these pieces is becoming easier thanks to organisations such as the CPD accreditation service. 'CPD points per hour' and allowing organisations to accredit in bulk reduces the hefty costs of delivering ongoing educational content.
A blended approach
The acceptance of digital channels amongst HCPs allows us to adopt a truly blended learning approach. Visual representation is more and more important in the online space and people absorb information in different ways. There is also more opportunity to consider audio opportunities, recognising that people acknowledge the need to limit screen time.
Engaging with HCPs for content development
Editorial teams are hugely beneficial in the development of medical educational digital resources. There is now more scope to reach out to KOLs remotely and engage with them at various touch points along the project journey, ensuring content is accurate and effectively endorsed. Now, more than ever, HCPs time is precious. Be clear, be concise and ensure you have clearly shaped the key focus of the piece so an HCP can offer their meaningful insight in the most effective way.
Medical approval conundrums
Shorter pieces of content should allow for simplicity and speed regarding medical approval. It is very important to scope out the HCP engagement journey with the medical team as this gives context and allows for a more thorough review. This ensures all educational content opportunities are recognised. Complicated websites and online programmes are likely to add approval friction. Discussing approval plans and schedules early on will ensure ongoing updates can be made and content isn't stuck in approval bottlenecks.
Summary
In a post-pandemic world, the way Medical Education is packaged and delivered needs to be viewed from a fresh perspective. Pharma companies need medical communications to educate and facilitate change in new and innovative ways. The challenge is to ensure that the value of Medical Education is not lost, and HCPs continue to trust in the educational value offered by pharma companies.
References:
Authors:
Alison Rayner, Director, Bamboo Medical Communications Ltd.
Editors:
Ben Keppie, Consultant, twentyeightb
James Harper, Founder and Managing Director, twentyeightb
The PM Society is a not-for-profit organisation that believes excellent healthcare communications leads to better outcomes for patients.
We aim to:
Support organisations and people in healthcare
Recognise excellence and promoting best practice
Provide education and development
Visit us here to learn more about the society and the value of becoming a member
The Digital Interest Group is made up of passionate pharma digital experts who volunteer their time to:
Promote digital best practice across pharma marketing and the wider commercial organisation
Explore and share an understanding of what digital strategies and tactics marketers in the life sciences sector can employ effectively to support their brand, business and customers.