Industry experts and agency representatives joined the webinar organised by the PM Society's Patient Engagement Interest Group on the 1st February in an active discussion to share best practice and practical insights on how to bring patient engagement to life through real-life case studies. Overall, the presented case studies highlighted the opportunity to employ diversified channels, to overcome obstacles posed by the pandemic, and the immense value of gathering patients' insights early in the process to achieve powerful co-creation and partnership.
View the full meeting report and watch the full webinar recording below.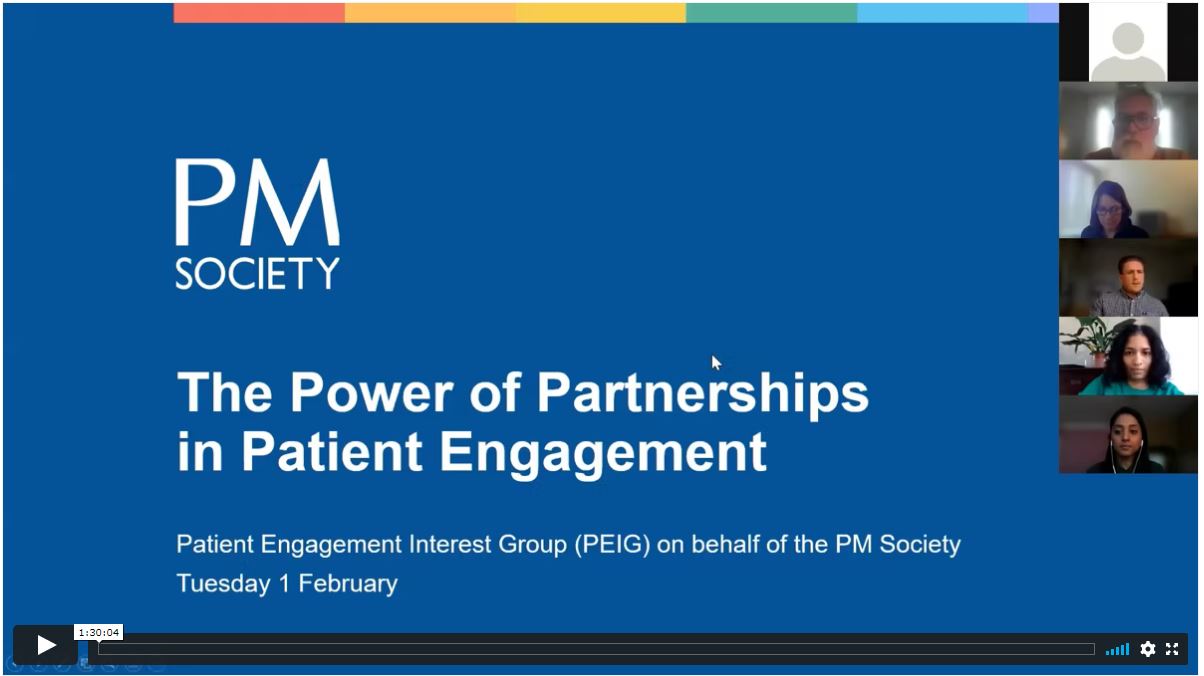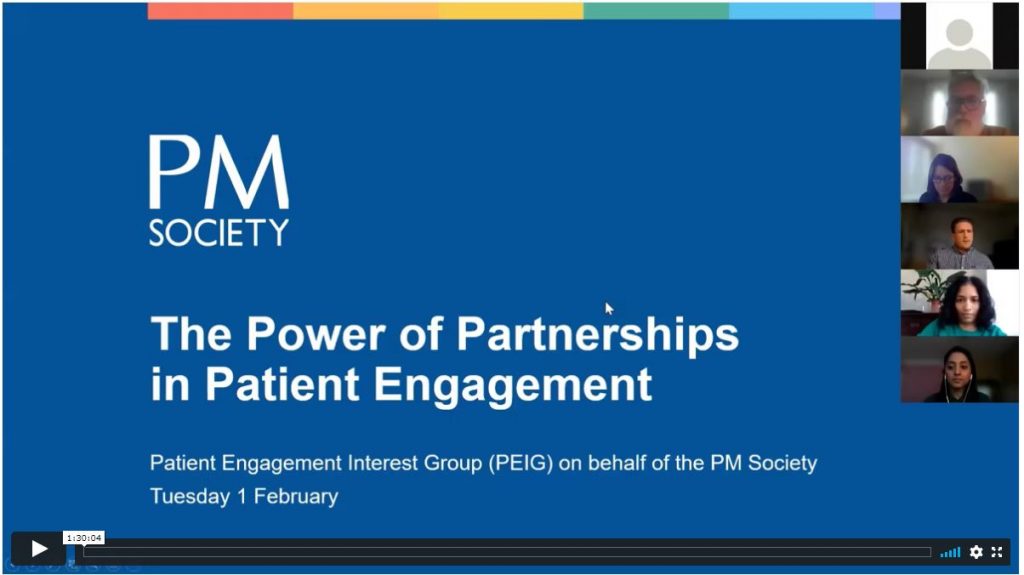 Kicking-off 2022 with a bang, industry and agency experts explored the ever-increasing importance of patient partnerships in the pharma industry. The topic for discussion was how the unmet needs of patients can be solved by partnerships between patients and the industry.
Joshua Vine-Lott, from Aurora Healthcare Communications and Caroline Benson, Co-Chair of the PM Society and Founder of Cuttsy+Cuttsy opened the session. They invited representatives from UCB, Bristol Myers Squibb and Boehringer Ingelheim to present case studies of recent patient partnership initiatives. What ensued was a lively and engaging discussion. Each speaker talked about how these partnerships were formed, practicalities they had to consider and learnings they took from the experience.
The event showcased pharma-led projects that demonstrated thoughtfulness, dedication and creative problem solving. These projects embedded true collaboration with patients and patient organisations into the core of their business. Demonstrating how the industry has continued to innovate to improve patients' lives. Not only in the science of medicine, but also in other technological fields to harness new media, digital interconnectivity and the changing landscape of communication.

Case studies
Amanda Simonds (UCB) presented the process of assembling a patient panel of social influencers to share insights on living with and managing psoriasis. The insights gathered resulted in far-reaching changes including awareness campaigns on social media, national TV and newspapers. As a result of the success of this collaborative approach, further patient outreach initiatives are in the pipeline, including podcasts.
Stuart Barber and Shital Vekeria (Bristol Myers Squibb) shared the process of how they collaborated with patients, patient advocacy groups and healthcare professionals. They co-created an interactive, bite-sized, on-demand docuseries to support patients diagnosed with metastatic melanoma. Their goal was to reduce the information overload patients experience by delivering content in a digestible and accessible manner. Patients can watch the docuseries when they are receptive to absorbing the information.
Lastly, Leila Zouad-Lejour and Richard Pitt (Boehringer Ingelheim) presented how they increased adoption and acceptance of telemedicine in patients with pulmonary fibrosis at a time when 100,000 vital appointments were cancelled due to the pandemic. They developed a digital guidebook to address patients' reservations about virtual consultations. This included tips on how to get the most out of consultations and empower patients with interactive checklists to prepare for these virtual appointments.
For successful and rewarding patient partnerships, the take-home messages from all three presentations were:
Create a flexible project plan-sometimes patients may share an insight of such magnitude which will change your original plans!
Gain input from patients earlier in the process for the greatest value
Understand that the creation process will be an iterative back-and-forth process between patients and pharma
Event report written by Dipika Sachdev, Wordbird