Case Study: Arran McFaull
Arran McFaull
Arran McFaull is the Head of Medical Information and Compliance for Pharmadoctor, which works closely with the leading UK pharmacy groups and independent pharmacies to support them to provide Patient Group Directions (PGD) based clinical services such as travel clinics, women's and men's health clinics and vaccination clinics.
He graduated with a First Class Honours BSc in Applied Biology from Northumbria University.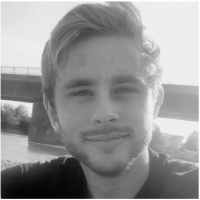 How did you enter the pharmaceutical industry?
I've always been interested in healthcare when I was at school. So when I graduated from university, I applied for a number of jobs including a customer services role at Pharmadoctor.
At my interview, I was put forward for a different job – Medical Information Officer, which sounded really interesting and I really enjoy what I am doing.
My role involves making sure all our medical information, policies and procedures are accurate and kept up to date, as well as ensuring that we are compliant with all regulation and pharmacovigilance, and dealing with adverse events reports, and complaints.
I work with a wide circle of colleagues, including the Medical Director, and I have been involved in implementing our e-Tool services and liaising with medical writers on our CPD modules.
Why is this business sector good for young people to get into?
There are so many different opportunities from research to finance to marketing and of course compliance and medical information.
How could things be improved for young people entering pharma?
More information about the size of the industry and the various opportunities beyond R&D and sales and marketing.
Best things about pharma
Doing something that has a direct positive impact upon the health of people.
Worst things about the sector?
The workload! But on the flipside that reflects the trust and responsibility that I have been given.
What would your advice be to your colleagues just embarking on their career within the pharma industry?
Make sure you get your foot in the door, work hard, and seize the opportunities that present themselves.