We held two webinars on the 26th and 27th April where we went through the PM Society Digital Awards categories, criteria, sponsorship opportunities and the LIVE event on Thursday 15th September 2022! If you missed it here's a recap.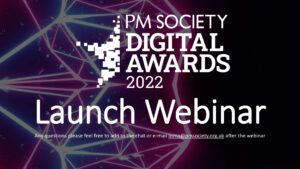 As a result of some of the questions we had we've updated our FAQ's with 'How many times can I enter a project/programme? Is there a limit?' and ' Who will see my entries, will they be seen in the public domain?'
As always please do not hesitate to contact Lorna, Awards Manager, if you have any questions.